Let's capture the chaotic, lovey moments. Our goal is to tell the story of your family. If you're all wild, let's run around. If you're all laid back, let's cuddle. You're all fun and laid back mixed together, let's do it all. Family sessions are for immediate family only and booked in the evening at golden hour. So tuck the kiddos in for an early nap and we'll take on the pretty lighting the evening has to offer. Packages start at $350. There is a $100 retainer fee to reserve a date.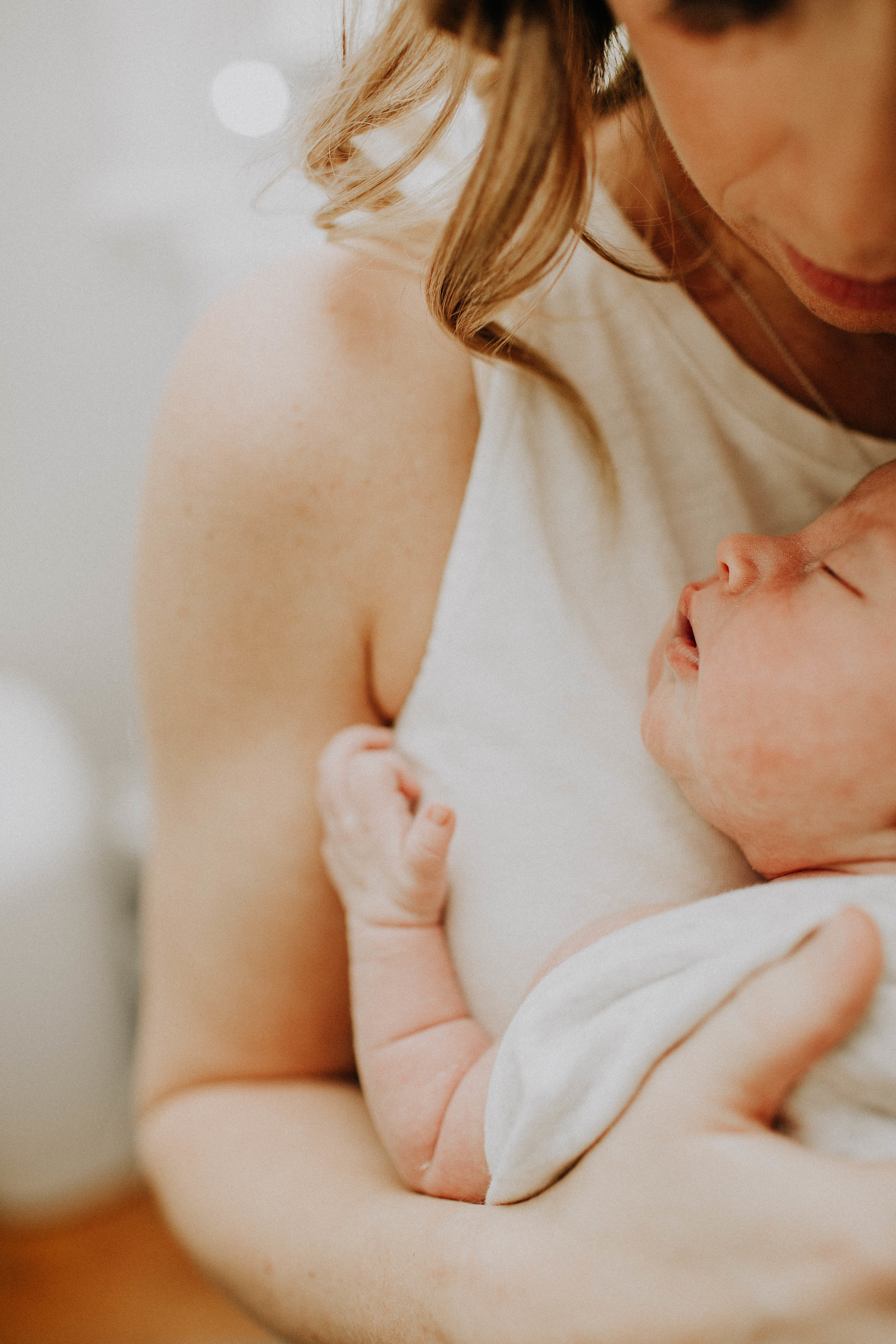 A lifestyle session taking place in the comfort of your home documenting the unposed and real moments of your newborn. Cozy up and I'll capture the bond you are all creating and exactly what those first few weeks brought you. $200 retainer fee due at the time of booking. $300 remaining balance due the day of your session.
This session takes place in my studio space exclusive to your newborn. A 20-30 minute session to capture the details and smallness of your newborn. With a white onesie or swaddle I will capture your newborn in an organic raw way. Leaving the dry skin and baby pimples because it is them right in that moment. This is for the parents wanting to stay out of the image but not wanting to miss out on the tininess of their babe in the first few weeks. $100 retainer fee at the time of booking. $250 remaining balance the day of your session.
For children starting at the age of 3 months. Taking place in my studio space or outdoors. Your child is changing everyday, especially in those first few years. Document them at this age with professional quality photos. This is perfect for a sitter session, their 1 year photos, or just because your kid is changing all the time and you want to bottle up all the cuteness. Starting at $200.
These are in studio sessions for the mom or dad needing some TLC from their kiddos. We'll cozy up in this warm space and capture the moments that are going to tug on your heart strings forever, that will be your pick up whenever you need one. This 20 minute session will document the cuddles you feel you don't get enough of, the realness of them "hanging all over you". Come with just your kiddos for a "mommy & me" or come as a family. It'll be short and oh so sweet. $100 retainer fee at the time of booking. $100 remaining balance the day of your session.
Wanting to document the miracle your body is growing? All we need is a short session to let you remember these sweet moments prior to the arrival of your newborn. 20 minute session in studio or outdoors. $100 retainer fee at the time of booking. $175 remaining balance the day of your session.
For the brides & grooms that want more than to hire a photographer. For those that value the real, raw, in love moments and the art we will create. To take on the BEST DAY EVER with a photographer by their side to document all the day has to offer. I am here to laugh with you, to cry with you, and to create. Packages start at $2500. There is a $400 retainer fee to reserve your date.
Pricing always subject to change! Don't see something you are looking for? Please don't hesitate to reach out with what you have in mind!
Referral Program
A perk of being an SNP client? The Referral Program!
Word of mouth is my biggest form of advertisement and what better way to show my gratitude than a discounted session. If you loved your session with me and think others would too I'd love for you to tell them! In turn, receive 20% off your next session if they book with me.
DETAILS:
• Clients referred must be new to the SNP Family
• Your 20% off must be used within 1 year of the referral
• You are not limited to one referral. However, 20% off cannot be combined but instead used for your 'next, next' session. If your referrals are within the same year, your 2nd referral can be used within 2 years, and so on
• 20% off includes lifestyle sessions. Excluding wedding & mini session packages
• Those you refer must let me know that you have referred me in order to receive the percentage off
• Percentage off can not be applied to an already booked session